AUTUMN COACH TRIP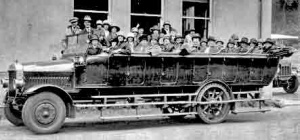 Our trip to Dundee looked like being a hard act to follow since last year we enjoyed lovely weather, beautiful scenery, a place of great interest and finished off at the Banff Springs hotel, where we were spoiled for choice. A really great day.

However typical of GVRS events, we strive to match or improve each year, and the Dundee Trip was no exception. A later start of 08:30 was made from Oldmeldrum and this took us to the Dundee Transport Museum for10:30 Shirley was let off for her shopping trip in the town centre despite the continuous heavy rain.

A first impression of the museum was that it looked very small. However it proved to be of tremendous historical interest and included some oily rag exhibits and some restorations of concourse class such as the 1933 Standard Little 9. I remember when my father had one around 1946, it was so much in need of a re-bore and lacked compression that it "couldn't pull a kipper aff a plate!" Driving down Holburn Street, in Aberdeen, a walking man passed us by, much to the embarrassment of my brother Ian and myself.

The museum turned out to be not so small when we found there were more areas leading off from the front hall. Again more items of interest such as a replica of the aircraft flown by the Dundee inventor Preston Watson, of a plane which in 1903 probably flew a powered flight before the Wright brothers.

After lunch we left for the journey to Discovery Point, which centres around Captain Scott's RRS Discovery. Again we were to learn an awful lot and could not but admire the skill and knowledge employed in the design and building of this predominantly wooden tall ship. Power being used when there was no wind. Imagine having to plan for provisions for 47 men for 3 years and going to unknown freezing territory. They must have been really hardy folk to survive these conditions and for so long.


At 16:30 we left to collect Shirley and travel to the Red House Hotel in Cupar Angus. The weather by now had cleared making it a far more pleasant trip. After an excellent meal, (The steak pie was scrumptious!) we had the raffle then the homeward journey. The result was 21 very happy folk with thoughts of where the GVRS bus trip would take them next year.
Dundee Museum of Motoring https://www.dmoft.co.uk/
The RRS Discovery http://www.rrsdiscovery.com/
------------------------------------
The 2016 Coach Trip took place on Sunday October 2nd to
Fort George near Ardersier.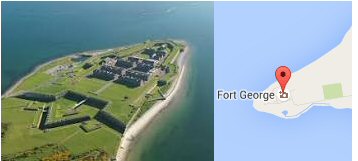 Fort George is one of the most outstanding fortifications in Europe.
It was built in the wake of the Battle of Culloden (1746) as an impregnable base for King George II's army.
It took 21 years to complete, by which time the Jacobite threat had been largely extinguished.

The imposing fort was designed by General William Skinner and built by the Adam family of architects.
Today, it still serves the needs of the modern British Army.
--------------------------------
Photos of the visit can be seen Here